Henry lives again (in a Murakami video game)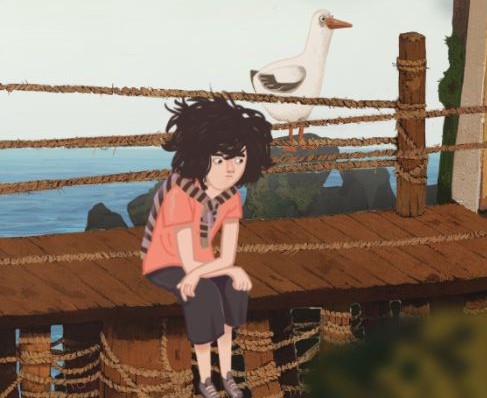 If you miss Henry, read Haruki Murakami and play video games (which I admit might be a small subset) you are in for a treat because Henry makes an appearance in the game MEMORANDA.
Memoranda is a point and click game with very simple mechanics that is based on Murakami's short stories. You play the game as Mizuki, a young woman who seems to have forgotten her name. Without giving away any spoilers, not far into the game you meet Henry sitting on the pier that leads out to a lighthouse. As Mizuki you can have a conversation with him about his writing and his friends. This part of the game draws on two of Murakami's short stories "The Seventh Man" about the encounter of two boys with a rogue wave and "Landscape with Flatiron" about an old man and a young girl who meet building bonfires on the beach. Both of these are weighty and disturbing stories, appropriate to the Henry experience – though the game's narrative is completely different.
The game is a lot of fun and captures a lot of the quirky atmosphere of Murakami's work.
In case you are wondering why Henry is in Memoranda, as a backer of the game on Kickstarter and winner of a Spot-the-Murakami-reference contest I had the honor of having a character of my choice inserted into the game. And who else could that have been…..? I am so grateful to Sahand Saedi and the rest of the team at Bit Byterz for including Henry in such a sensitive and moving way.
You can buy the game on Steam and other gaming sites. And if you get stuck you can message me for hints.
Some screenshots are below: