Actually I did have an odd dream.
July 2008
IT ALL BEGAN WHEN I WAS AT SCHOOL, waiting for the bus to go home! There was like a foot of snow on the ground, and I was very distracted by this. NATURALLY, I missed the bus entirely (And two back-up buses) and had to get a ride home with someone (They missed buses too.) SO. Devin, Connor, and some other people I can't remember now got a ride home with Tomas Rizzo. I remember thinking "WOAH, I DON'T USUALLY GET RIDES HOME WITH HIM!" Which is true! He moved in like third grade.
SO WE WERE SITTING IN THE CAR, riding along, and I noticed that the dog was sitting in the front seat. And it wasn't JUST a front seat, there were THREE OFF THEM. And they faced BACKWARDS. AND THEY FOLDED DOWN AND UP AND DOWN. And the dog took up all three, what a fatty. Also odd, my mom was in the car discussing cooking with the mother who also there. What?
ANYWAY, SO WE GOT HOME AND BEGAN DINNERING RIGHT AWAY. THIS IS WHERE THE STORY BEGINS.
<BIG><U><B>OBJECTIVE: ATTAIN A GREETING FROM CHRISTINA MATERA
A true story experienced by Henry Armero. Or a true dream or something.

ANYWAY, THE REST OF THE DREAM SEEMED TO BE CENTERED ON GETTING CHRISTINA TO SAY "HELLO", FOR SOME REASON. 0:< I'M NOT SURE WHY.
It started off with us eating DINNERRRR. I HAD A NICE BOWL OF CURRY AND WAS EATING IT YUM. We ate and curried and etc for a while, and then eventually, I left home through a door and ended up in some field, THAT I LEARNED WAS OUTSIDE OF THE HIGH SCHOOL VIA A CONVENIENT MAP IN MY POCKET.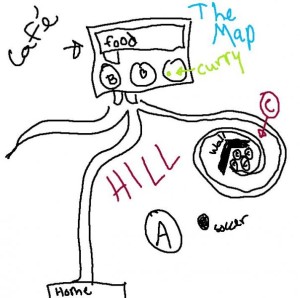 THERE WERE VARIOUS PICNICERS HERE, DIVIDED UP INTO GROUPS A B AND C. ALSO, EVERYONE WAS WEARING AN armband with a number on it! I didn't notice my number until later!
GABE AND CONNOR AND DEVIN AND ALL THOSE PEOPLE WERE IN GROUP A, which was down in some big field. They all had shirts with As on them. I think they were playing soccer or something.
I DIDN'T NOTICE ANY Bs, but because there were Cs, I assumed Bs existed too. I believe Christina was in C, but I didn't notice the SHIRTTT. Everyone around her was wearing a C-marked shirt, so word.
ANYWHUY, I started walking up a hill towards the main school bit (actually just a cafeteria.) HOPING TO RESUPPLY MY BOWL OF CURRY. I was quite hungry, and went quite quickly.
Arriving there, I saw that there were some people eating at tables (Which I realize now were probably the Bs. Rightt.) and that there was a large super-market/cafeteria next door!
I made great haste towards the cafeteria, just in time to hear some old woman be like "SORRY, THERE'S NOOO MOAAAAAAAAAAAAR CURRRRRRRRRRRYYYYYYYYYYYYYYYYYYYYYYYYYYYY"
So I left!
Walking through the crowd of B-people, I bumped into Matt Acosta. Our conversation was as follows:
Me: Hey, Look, I'm Number 136! *Points to armband.*
Him: Oh!
AND OFF I WENT.
Half way down the hill, I noticed that my hands were empty: WHERE WAS MY BOWL OF CURRY!?!
I DASHED UP THE HILL ONCE MORE, STOPPING SUDDENLY TO SHOW CHRISTINA MY ARMBAND, WHICH HAD CHANGED TO 125. SHE MADE A "YEAH, MAN" FACE, BUT DIDN'T SAY HI.
AND OFF I WENT. MY CURRY! THE CAFETERIA DOORS WERE IN SIGHT.
I RAN IN. "MATT ACOSTA, WHERE'S MY CURRY?!"
He was not to be found! BUT LOOKING AT MY MAP, I FOUND A LITTLE INDICATOR SHOWING THAT MY BOWL OF CURRY WAS TO BE FOUND AT SOME TABLE IN THE CORNER! I RAN AND PICKED IT UP.
YEAHHHHHHHHH!
BUT WAIT, BUT WAIT! THE BUSES WERE COMING! I WAS LIKE, OH LAWDY.
AND THEN, THE NEXT THING I HEARD WAS "AUTOBOTS, ROLL OUT!"
AND ALL THESE TRANSFORMERS START ROLLING DOWN THE HILL. I noticed on my map that they were headed down the curly road towards C, so I DASHed after them!
AT SOME POINT, I TRIPPED AND FELL, ROLLING DOWN THE HILL A BIT. NOTICING THAT CHRISTINA WAS AHEAD, I KEPT ROLLING, BUILDING UP VELOCITY ETC.
But I missed! And ended up near Group A, who was playing soccer.
Someone kicked it, and a young version of Zade caught it between his thumb and pointer finger, with a pointing king of checkmark position thing. I dunno.
It was really Devon Walker-ey, though.
And then I woke up.
The end.
Oh word, I failed my mission, diddun I.